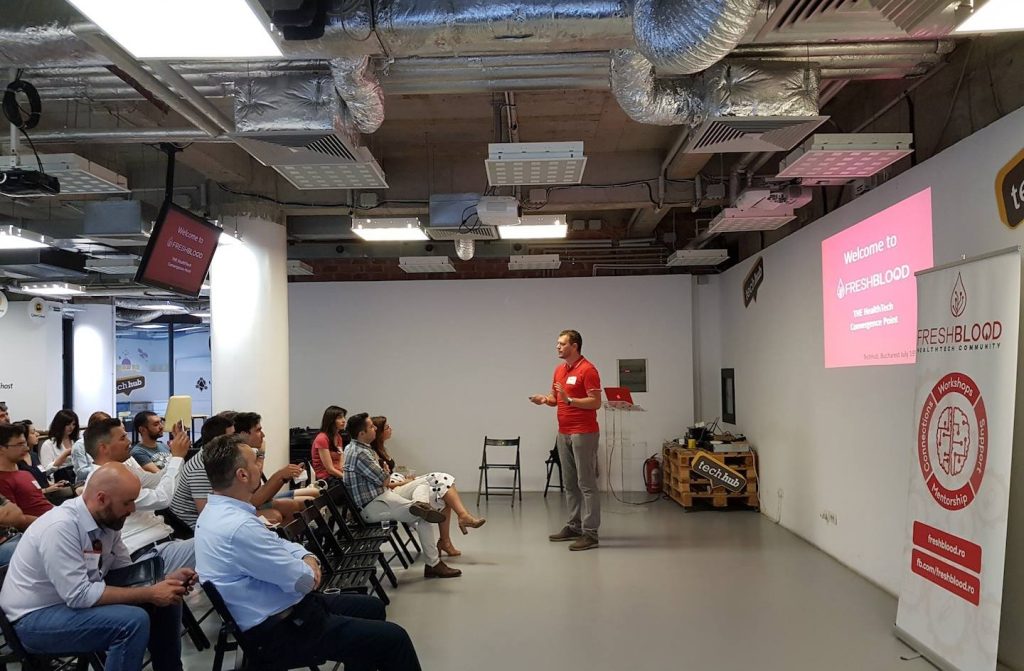 FreshBlood HealthTech Community, a Cluj based NGO, is one of the main catalysts for healthcare innovation in Romania, supporting healthcare related startups since 2017. The NGO is also the hub of EIT Health in Romania starting from 2018, and since 2019 has become connected to the European Connected Health Alliance, a European ecosystem network.
FreshBlood has been continuously helping healthcare innovation grow in Romania in the past years, experiencing an intense 2021 and having lots of plans for 2022.
Creating an impact in the healthcare innovation ecosystem, to ultimately help the people improve their health
Besides expanding their collaboration with EIT Health, FreshBlood joined a couple more projects last year, Connect, coordinated by the Babes-Bolyai University of Cluj and SCI Fi, coordinated by Medical University of Lodz, Poland, bringing their expertise and their connections, expanding the impact in the european ecosystem.
In 2021 the representatives of the healthcare innovation ecosystem in Romania became more and more visible, the startups FreshBlood has helped becoming more connected, achieving recognition at European level, like Tully or like .lumen.
"We believe that collaboration is the way to create an impact in the healthcare innovation ecosystem and ultimately help the people improve their health.", says Dr. Ion-Gheorghe Petrovai, Co-Founder and Director of Innovation at FreshBlood HealthTech.
Q1 2022: a special quarter
For FreshBlood and for everybody else, Q1 of 2022 was the quarter where we had to accept living with the pandemic, while also having the Ukraine conflict impacting the healthcare system, not only Romania but all over the Eastern Europe. It is to be remarked that there are Romanian healthcare startups that have set up telemedicine services in Ukrainian language, like Telios and Sanopass, and not only large healthcare operators offered their help.
FreshBlood will continue the projects they started in 2021 (Connect and SCI FI), while promoting the opportunities from EIT Health, the programs and the connections that can be achieved with their support.
"From the programs I would like to nominate, especially JumpStarter which is for wanna be innovators, starting now. And also InnoStarsAwards, or Startup Meets Healthcare Providers, which can provide opportunities for healthcare startups in our ecosystem. We are continuously connected with activities happening around Romania, like helping as a partner organization in Innovation Labs, one of the most impactful startup support programs in the ecosystem and helping the other startups advance their projects.", says Dr. Ion-Gheorghe Petrovai, FreshBlood HealthTech.
In January this year, FreshBlood released the second version of the healthtech startup map, which is an improved one in terms of quantity and quality. The NGO is also preparing to launch the Hubvantage program this year, aiming to support healthcare founders to get connected with relevant healthcare professionals, not only doctors, but professionals working in the healthcare system, administrators, people that have businesses in the healthcare system, etc. All these people are considered essential if a startup wants to come with a good understanding of the problem, and come forward with the relevant solution. This will be done in collaboration with HIVE Center of UBB and Activize.
The meeting place for healthcare innovators in Romania
In 2022, FreshBlood will continue their activities with GIPIA, an Interuniversity Group for Healthcare Innovation and Entrepreneurship which is putting together people involved in innovation and entrepreneurship in Cluj universities, together with representatives of Cluj City Hall, North West Development Agency and Transilvania IT Cluster.
Within the FreshBlood meetups they will try to identify good examples and facilitate connection with the relevant people in the context, continuing the collaboration with EIT Health aiming to get the most out of it on behalf of Romanian healthcare startups.
Overall, also in 2022, the NGO objective is committed to helping healthcare innovation in Romania grow. This will happen both through supporting the startups, and through partnering with new organizations interested in supporting healthcare innovation, like larger NGO's, hospitals and universities.
"We aim to continue being a reference and meeting place for healthcare innovation in Romania, Moldova and Eastern Europe. Everything we do is with the objective of improving healthcare through innovation.", says Dr. Ion-Gheorghe Petrovai, FreshBlood HealthTech.