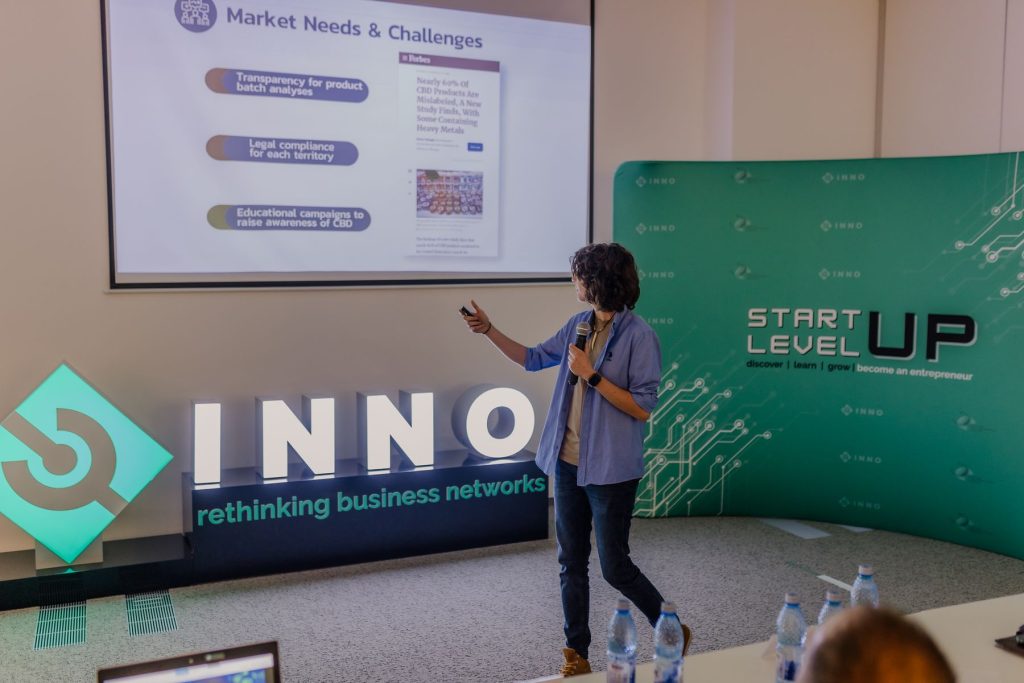 On September 18th 2023, the inaugural edition of the LevelUP Health & Life Sciences Accelerator program in Cluj-Napoca culminated in an impressive Demo Day, marking the successful conclusion of a pioneering initiative for health and life sciences startups in Romania.
Over a span of six intensive months, 50 industry experts actively engaged in mentoring, contributing over 500 hours of invaluable consulting. The program included two bootcamps and an array of enriching workshops, equipping 13 startups with essential skills and knowledge to thrive in this dynamic sector.
Launched this March by INNO, the North-West of Romania Regional Development Agency's department responsible for regional innovation and attracting investors, LevelUP is the first accelerator in Romania exclusively dedicated to startups in the fields of health and life sciences.
On the Demo Day of the program, 12 innovative startups showcased their cutting-edge solutions before a distinguished jury panel comprising eminent figures from investment funds, private clinics, and EIT Health, underlining the exceptional progress achieved through this accelerator program.
On this occasion, we conducted interviews with 12 key stakeholders of the program, including participants and jury members, with the aim of garnering their perspectives and insights on the healthcare innovation ecosystem in Romania.
The winning startups of the LevelUP accelerator
The jury conferred four awards, which were claimed by two of the pitching startups, Neurorevive an innovative and cutting-edge technology for post-stroke rehabilitation and Hempaid, developing product ranges based on various medical innovations such as medical cannabis for the prevention or treatment of conditions like anxiety, insomnia, autism, or neurodegenerative diseases with minimal side effects.
The accounts of the winning startup founders exemplify the profound impact of accelerator programs on startups, showcasing how dedicated mentorship, structured tasks, and collaborative environments can accelerate progress and drive success in innovative ventures.
Viviana Cornețeanu, COO and co-founder of Hempaid, shared her perspective on the transformative journey within the accelerator program. She remarked, "The experience in the accelerator was better than expected actually. We met a lot of wonderful people, starting with the experts that really helped us understand the world that we just went through, and then the ideas of the startups. It really was an amazing experience and we are glad we took part in it. Our startup already has revenue, so the funding was not the problem for us, but rather making sure that we took care of all the steps necessary towards international expansion. If I take a look at how we went into the accelerator at the beginning of the year, and six months later, I'm seeing a huge progress and the program really helped us focus on the main objectives and the things that needed to be done were very clear to us, and also the visibility helped us a lot.".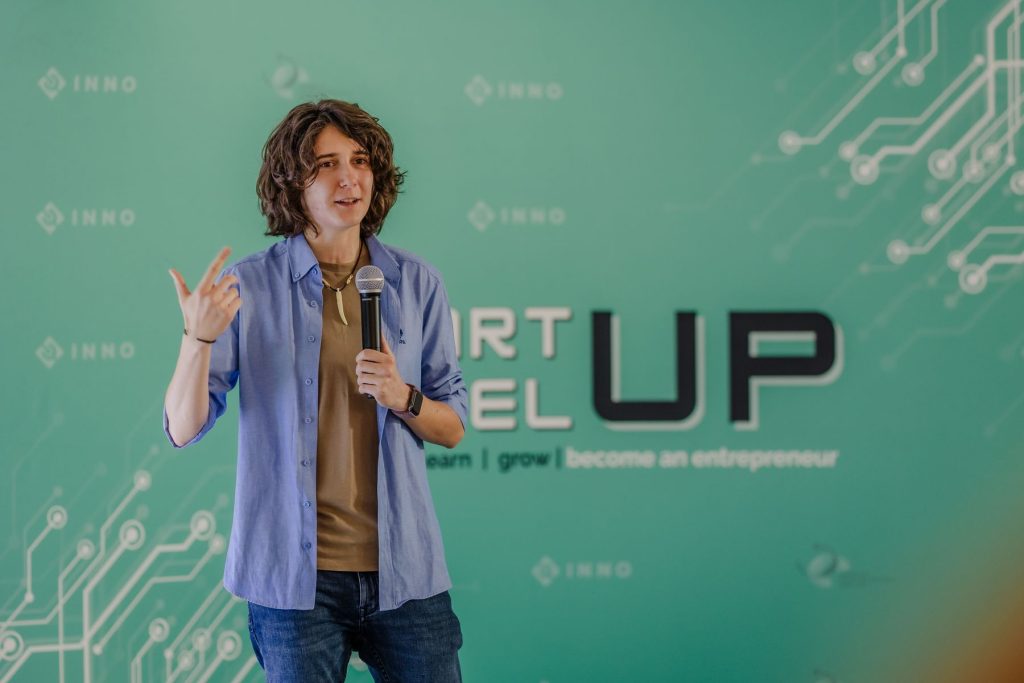 Adrian Fechete, CTO of Neurorevive, emphasized the pivotal role of the accelerator program in their fledgling venture. He remarked, "Regarding the experience with the accelerator, I'm not overstating when I say that for us it's the greatest thing that could have happened. And I say this because our project is extremely young. It only started one month prior to the accelerator. And the fact that we got tasks to do every two weeks seemed daunting. At first, we never fully achieved the task that we wanted, but at least we got something done, and the fact that we got little things done consistently, greatly accelerated the entire process for us. So it was truly an accelerator experience."
Views from the jury members about the acceleration program and the innovation ecosystem in general
The jury expressed satisfaction with the program and the results showcased by the startups. Subsequently, we availed ourselves of the opportunity to glean their perspectives on the startups, as well as their assessments of the other participants, the accelerator, its achievements, and their vision for its future evolution.
Roel Kamerling senior program developer at TU Delft, coordinator of the DRIVE Innovation Ecosystem Development at EIT Health was one member of the jury of the Demo Day. Four years ago Roel told us in an interview about the need of creating such a program and later an incubator in Cluj, and shared with us some best practices for creating an innovation ecosystem in healthcare, from TU Delft, the Netherlands. We asked Roel how he sees now, as an arch over time, the performance of the ecosystem with the help of this acceleration program.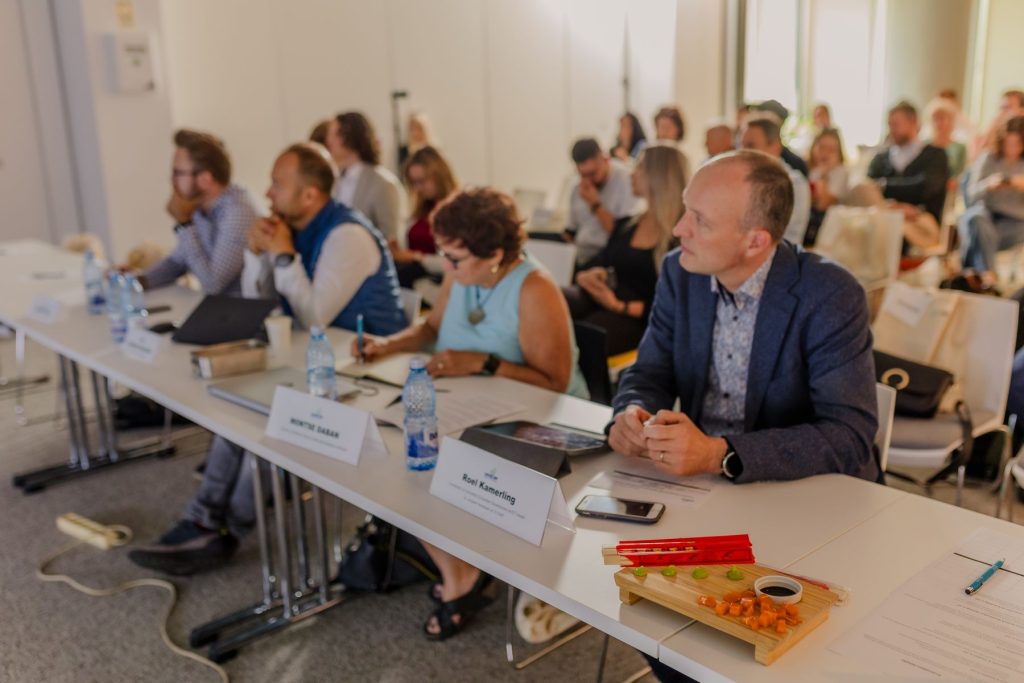 "I see the outcomes and it's really different from last time I met some of the teams. They are so much more mature in how they present themselves, they have a professional way of defining where they are and what they still need to do, and they have pitched very well. That's just a tremendous result to see, and I think that's what you need to build. If you want to create a bigger innovation ecosystem, you need to have a lot of such teams working on it, being supported by the community and by the experienced people, and then become experienced people themselves. And that's what we see happening here. So that's very encouraging. As an observer and a witness of this, that makes me very happy", said Roel Kamerling.
Roel contends that the Northwestern region of Romania possesses a wealth of favorable elements conducive to fostering innovation, including esteemed universities, a robust regional innovation ecosystem, and a strategically devised smart specialization framework. He further highlighted the LevelUp program as a valuable addition to this milieu and provided specific recommendations for its continued advancement.
"I would recommend to continue running the program like this and maybe extend, as now is focused on Life Sciences and Health, but could be focusing on other things as well. My personal recommendation would also be to make sure that you will get a physical space, like a multi-tenant building with some basic facilities, but also lab facilities or computer facilities. I think it is important for the teams to meet each other at a regular basis in physical spot, with mentors, with VCs, local doctors like from the rehabilitation center or other hospitals from here, a place to meet up and see each other, organized or at random, that facilitates the innovation effort", added Roel Kamerling.
Montse Daban, Director of Science Policy & Internationalization at BIOCAT, Barcelona, emphasized that supporting innovation in healthcare is much more than supporting the startup scene, supporting the health of the people is supporting the economy and jobs, testing technology is advancing on the wellbeing of the population. She also mentioned the need to attract talented people and to get the openness of the public health system.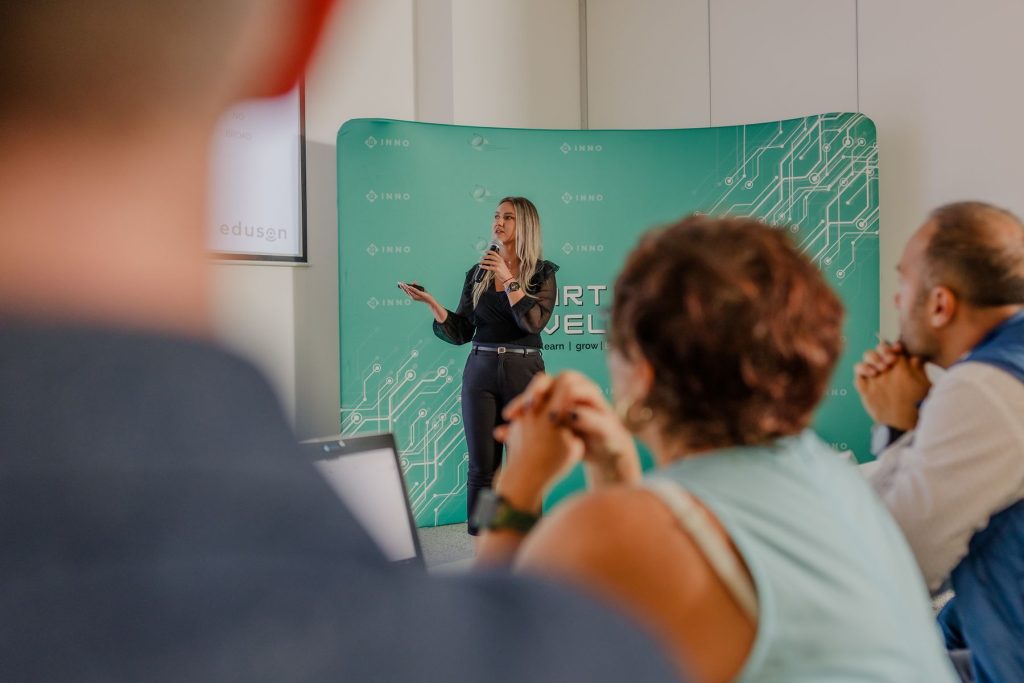 "An accelerator is a necessary step to support the growth and to identify which are the gaps and provide a system of support to overcome barriers. But the main aspects that we have to tackle for an ecosystem to grow has to do with talent. So we have to work on skilled people to lead the solutions. Also from the innovators, but also from the policymakers and from the healthcare professional side. So talent, attracting talent, increasing capabilities, also accompanied to identify opportunities of corporate funding. Of course, adopting the innovation, having innovators in a country that is not ready to include these innovations in their health system is missing huge opportunities. So we need also to work on the capability of the health system or the public procurers to buy innovation for the sake of the society.", said Montse Daban.
Ioana David, Managing Director at Cleverage, a VC fund investing in technology-based solutions for the healthcare sector, underscored the significance of accelerators in equipping startups for effective engagement and presentation to potential investors.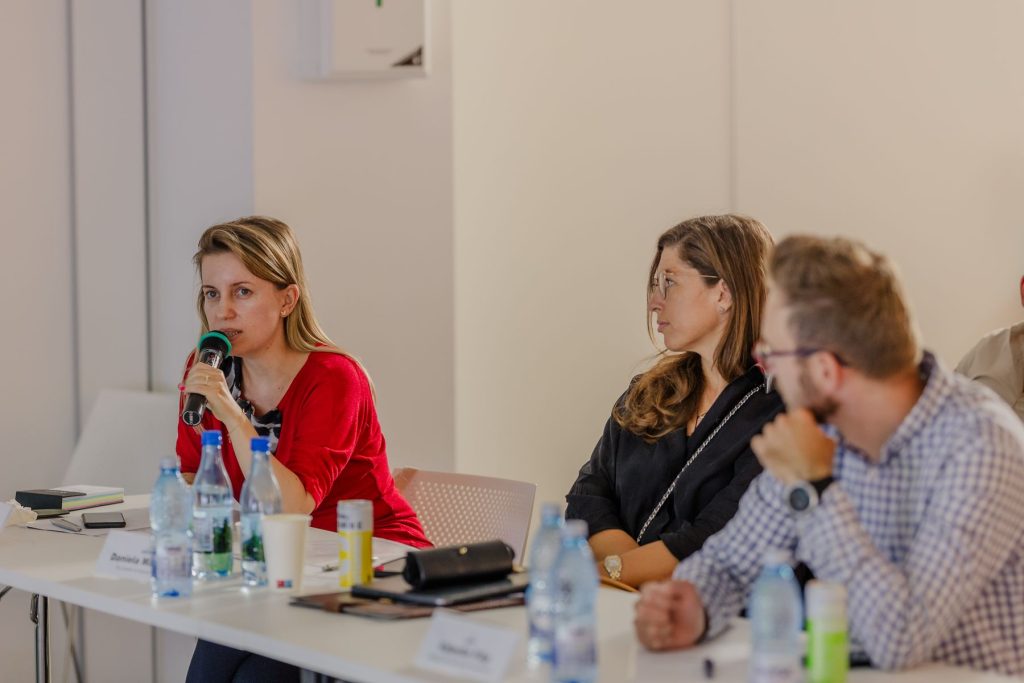 "Accelerators are an important part of the startup ecosystem and we were very happy to find out that in Romania we have an accelerator dedicated to the healthcare sector. The number of HealthTech startups coming to market increased significantly from last year, and the number of startups coming and pitching for us has also increased in recent months and I think this is quite a positive side. Of course, there is still work to do for the entrepreneurs to be well prepared, to know what to expect, and this is why an accelerator like we attended here today is important", said Ioana David.
An insight into the healthtech innovation ecosystem
The healthcare innovation ecosystem in Romania is still in its infancy, but things have been growing quite a lot and quite steady in the past six years. At the moment, Activize, a Cluj -based organization supporting startups is monitoring around 200 startups which have a health related component in the product, in Romania. Some of them are growing, having 50.000 Euro per month in revenue some others are very definitely at the beginning. Mircea Vadan, Managing Partner of Activeze gave us a valuable insight into the Cluj innovation ecosystem.
"In Cluj, one of the smart specializations of the region is medical tech, and we see a lot of activity here, Cluj being also a medical center, having companies which are doing health connected products or research. We need to improve in terms of funding HealthTech, private funding. This is tricky for investors because they're a little bit more reluctant in the HealthTech area. The reason is that they consider it a slower market, slower to change, slower to grow. But once you get a foothold in the market, you can grow steadily. And there's a lot of regulations which can stop a startup from actually growing and as well as many other interests in the domain. So that's why it can be challenging to have HealthTech startups, but we're hopeful, having a lot of medical students, having a lot of doctors, having hospitals, having an open municipality, having many startup players here, support, and a little bit of funding to run programs like LevelUP. I think it's promising, but still definitely needs a lot of things to evolve. Happily, we have the EIT Health support which is enabling programs like this to happen.", said Mircea Vadan.
Views from different other stakeholders of the program and participants at the Demo Day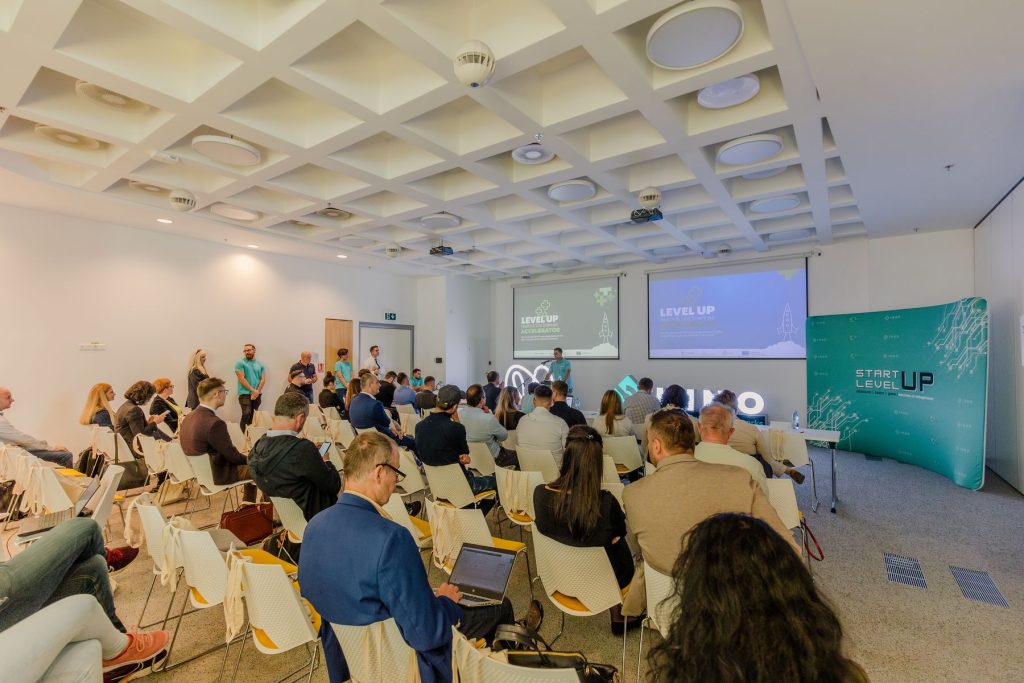 One of the partners of the accelerator was the IT company Nagarro, and Cristiana Bogateanu, Business Development Specialist in Life Sciences & Healthcare at Nagarro, and mentor of the program, expressed her views about the accelerator.
"We were very happy to support this initiative in the Life Science and Healthcare domain as Nagarro is one of the companies that has a dedicated business unit in this field, therefore for us it is very important to join technology and innovation programs and not only this but also support them and get involved. What we did is to help them in the facilitation consultancy, but also in the field of offering infrastructure for facilitation sessions. My opinion is that we need such clusters in Life Science and HealthTech, because, as we know, most of the innovation in that digitization process comes from startups. On the other hand, I believe that the path that a startup went through this program is very important for them, to be able to design their business model and business case and get a good market fit.", said Cristiana Bogateanu.
At the event, there were present also representatives of other local innovation ecosystems from Romania, like Rebeca Avram, Community Manager of Make it in Oradea and Elena Ovreiu, Co-Founder & Managing Partner of BIOdyssey incubator, Bucharest, which shared with us their views about the LevelUp program and innovation in healthcare.
Elena Ovreiu, Co-Founder & Managing Partner of BIOdyssey incubator, highlighted the significance of the growing healthcare innovation ecosystem in Romania, emphasizing the role of accelerators like this in its expansion. She remarked: "I'm happy to see that the ecosystem is growing, and this accelerator is part of the bigger ecosystem in healthcare innovation in Romania. When I started to build programs in Romania in 2015, the ecosystem was just in the beginning, but now more and more programs like this one are being developed in Romania and this accelerator is a very good initiative that will help increase innovation in healthcare in Romania and in Eastern Europe. Romania has the potential to become an important player at the regional and global level in this field, because it has the human resources, both doctors and technical experts in technology, to develop this field. These kinds of programs have the potential to bring together the tech and medical communities, and to catalyze them and make them work together, also giving them business support".
Rebeca Avram, Community Manager of Make it in Oradea, highlighted Oradea's also favorable position for advancements in medical and scientific innovation. She stated, "Oradea is also very well positioned for innovation in medical and science and we have the openness of the public sector and also of the medical sector. Oradea is very eager to find innovative solutions which can develop the hospitals and the communications with the patients. Our organization, Make it Oradea, is offering mentorship, investment and all kinds of support with partnerships".
An accelerator for the whole innovation ecosystem in Romania
The 2023 assessment of the healthcare innovation ecosystem by Innostars finds that companies involved in EIT Health programs in Romania are excelling in areas like getting external grants, valuing their businesses, and having a high percentage of startups that are entering the market. However, they are lagging a bit behind their peers in terms of raising funds from external sources. The survey responses indicate that Romania has a strong level of maturity in terms of experimenting and trying out new ideas, as supported by the numbers. It's worth noting that Romanian participants contributed more to the survey than those from other countries, which highlights the excellent network and collaboration fostered by EIT Health and their local representative FreshBlood HealthTech.
Dr. Ion-Gheorghe Petrovai, Co-Founder and Director of Innovation at FreshBlood HealthTech, shared his perspective on the transformative impact of the LevelUP 2023 program, stating, "Based on the ecosystem mapping of 2022 the Romanian HealthTech innovation ecosystem was lagging in public authorities support. The LevelUP program organised by ADR North West with EITHealth support is showing to the other authorities and to the ecosystem that it can be done and it can be done very well, with strong feedback, involvement of all regional stakeholders (universities, companies, investors, etc.). I am looking forward to the business and to the mindset impact that this project will have starting from this year already!".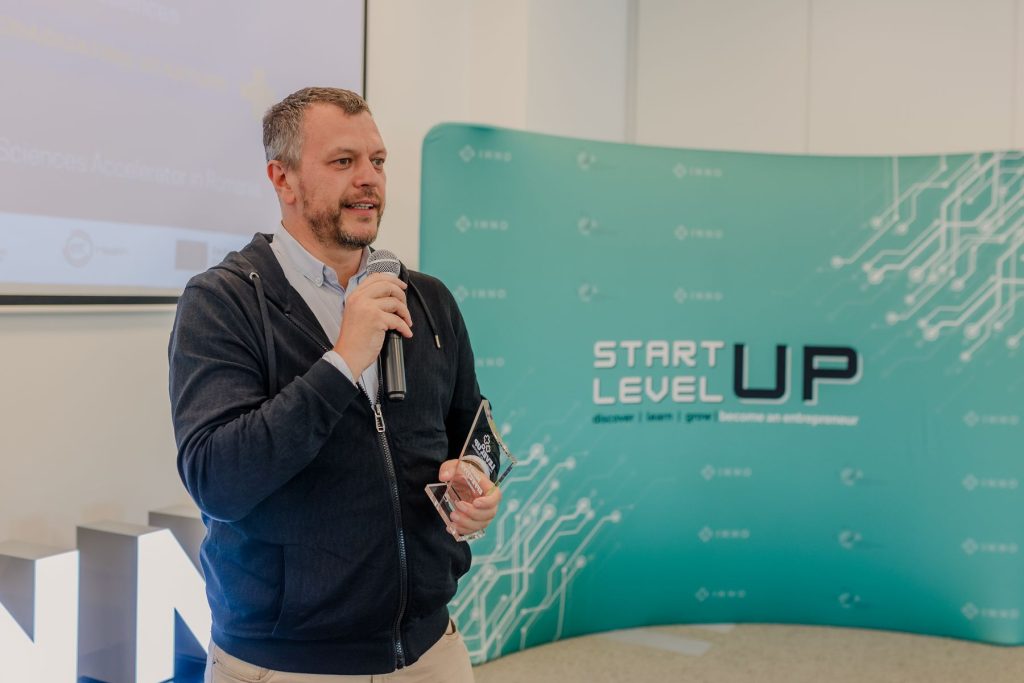 Dr. Petrovai's remarks underscore the catalytic role of the LevelUP program in not only addressing a critical gap in public support for the Romanian HealthTech ecosystem but also in setting a high standard for collaborative engagement among various regional stakeholders. His anticipation for the forthcoming business and mindset transformation signals the potential for long-lasting positive effects in healthcare innovation in Romania.
The story of LevelUP
LevelUP Health & Life Sciences Accelerator program in Cluj-Napoca has been developed with assistance from EIT Health as part of their DRIVE program by INNO, the North-West of Romania Regional Development Agency's department responsible for regional innovation and attracting investors. Laviniu Chis, Head of Department INNO – Rethinking Business Networks, explained how the program took shape.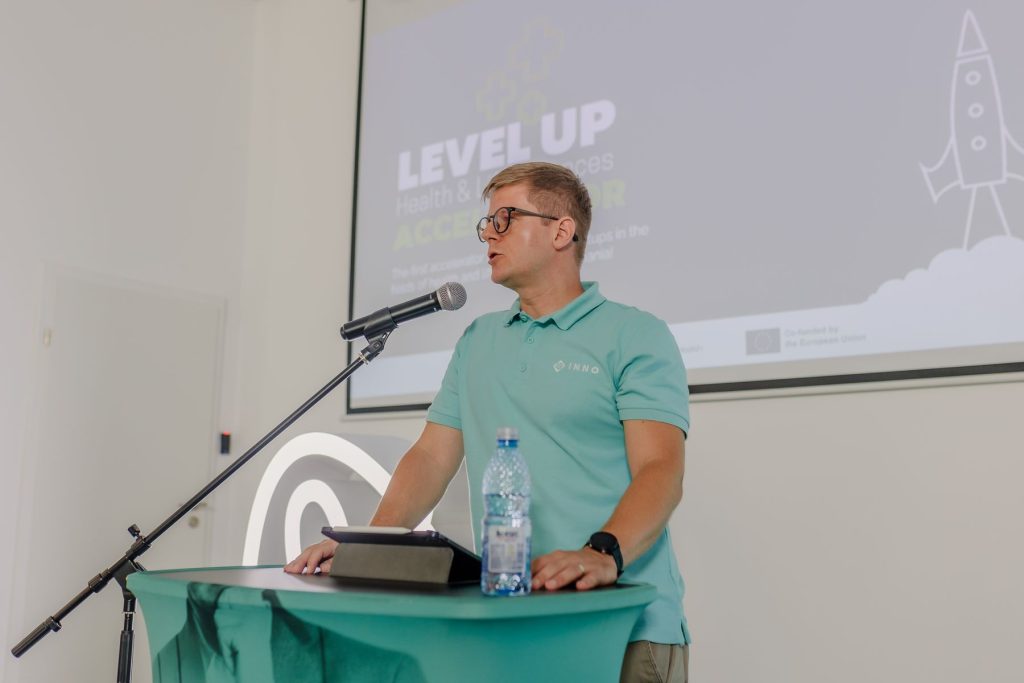 In their journey towards fostering a robust innovation ecosystem, the INNO team initially engaged with the healthcare sector through the EIT Drive program. This experience prompted them to contemplate the development of an ecosystem specifically tailored to the healthcare domain. Upon returning with invaluable insights, a thorough analysis of the existing ecosystem was undertaken. Patterns began to emerge, highlighting significant needs within both the regional and national healthcare landscapes. Recognizing the profound importance of the healthcare sector, they swiftly turned their attention towards it. This decision was further validated by the inclusion of healthcare in the RDA's smart specialization strategy, reinforcing its status as a top-tier priority. With strategic alignment and a firm foundation, they embarked on the logical next step: the creation of a program and initiatives geared towards strengthening the regional health ecosystem.
"The main stakeholders that we see around the program and which we are trying to target are from the quadruple helix. So we mainly target public institutions like hospitals and clinics, because you want them to be more open to new ideas, innovative ideas, and work more and closely with startups. Then, we go towards the private sector. We are trying to build partnerships with bigger companies like Samsung or Philips who have health divisions that can support us with know-how and some incentives, or even help with scaling and internationalization of the startups. So this will be the second group of stakeholders. Then we have the enablers as we like to call them, NGOs who are active in this field who want nothing more than a healthy ecosystem to persevere and prosper here. They will be the third stakeholder and the fourth will be academia so we are trying to get involved in the medical universities and all the other important universities that we have in our region, because they sit on a mountain of knowledge and we want to help them transfer that knowledge into the market. Of course, not all knowledge is applicable, but I think that we can find some part of that to be applicable and we will want to make it available to startups and the private sector.", explained Laviniu Chis.
On the Demo Day of the LevelUp 12 startups pitched in front of the jury, there were 13 graduating startups out of the 14 that were selected. Stefan Rusu, Innovation & Entrepreneurship Expert at INNO Platform and LevelUp program coordinator explained which support the graduating startups will get next.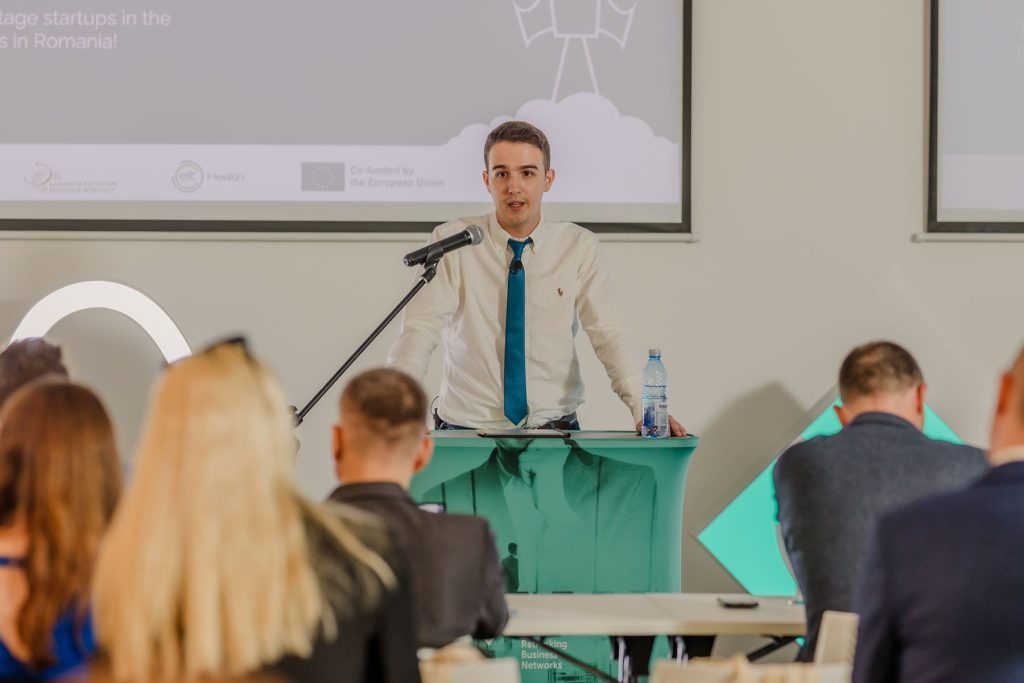 "We're also going to have some other programs to support them. Whether being partnerships, webinars, information regarding other projects. They're going to receive mentoring from the EIT Health's coaching network up until the end of the year. I know for sure that some of these startups will go on and impact the lives of others positively. So I'm really glad for that. It's been a challenge. I know what to improve for the next editions and the project will live on and help other startups in Health and Life Sciences, changing the lives for everybody.", said Ștefan Rusu.
As a conclusion, Romania is becoming more visible on the map of HealthTech Innovation in Europe and we are seeing both the tip of the pyramid, with startups like dotLumen and Re.Flex and the consolidation of the base through initiatives like LevelUP, HealthInnovation Zone, BIOdyssey, FutureMakers and Hubvantage, that can contribute to both stronger stakeholders involvement and to the future stars, with european and global impact.