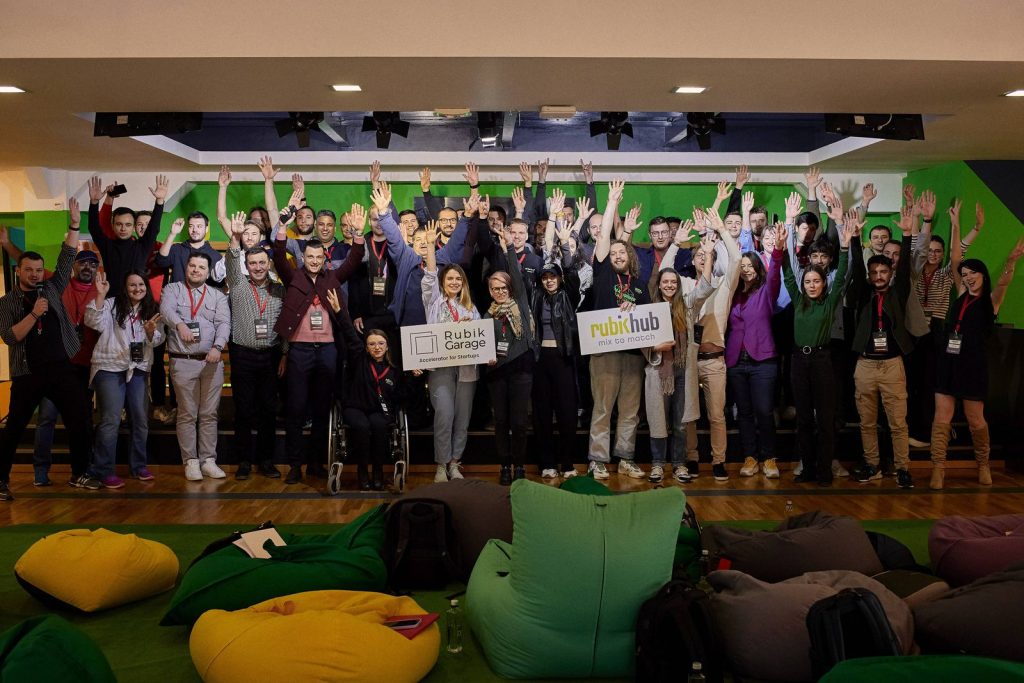 Rubik Hub, part of the North-East Regional Development Agency of Romania, in collaboration with strategic partners including Fortech Investments, Google for Startups, WIT Angels Club (Silicon Valley), AmCham Romania, proudly introduces "Rubik Garage – Scale to USA", a groundbreaking equity-free and fee-free acceleration program designed exclusively for European founders seeking to expand into the US market.
Applications are now open with a deadline of November 1, 2023, here: rubikhub.ro/rubik-garage-scale-to-usa/
Rubik Garage Scale to USA is open to startups with traction in a European market and plans to launch in the States. This extraordinary opportunity offers participating startups:
A 10-day immersive trip to Silicon Valley and Austin, Texas, featuring meetings with American investors and partners, including two Demo Days and numerous 1:1 meetings.
Direct engagement and personalized sessions with over 8 US-based investment syndicates and founders actively operating in the USA market, during 1:1 Meet the Investors sessions, live online workshops, and coaching sessions.
Exposure at the prestigious SXSW Conference in Austin, Texas, the largest tech event in the region.
Access to potential investors, partners, and clients within the Central and Eastern European (CEE) startup ecosystem as part of the Economic Delegation to the USA.
Financial support in the form of bursaries and exclusive discounts, plus the opportunity to raise 100,000 euro from Fortech Investments, if the startup aligns with their portfolio.
Valentin Filip, Managing Partner at Fortech Investments, the lead strategic partner of the accelerator, says about the collaboration: "For European start-ups with real ambitions, scaling to the USA is a must, even more so for those in the CEE. Not because the investors demand it but because our founders are truly ambitious and they plan this path for their businesses from day one. That's why we are more than excited to be the lead partner of such a program that provides founders with everything they need to take this step successfully, and to invest in the ones with the most potential. If you're one of these ambitious founders, you need to join the "Scale to the USA" Accelerator by Rubik Garage."
The accelerator program follows a structured format:
Founders' Bootcamp: A comprehensive 3-day, in-person event at Rubik Hub in Piatra Neamt, Romania, scheduled for November 19-21. Plus, participants will get exposure at the ROSartup Conference, one of the most important startup events in Romania, by participating in Startup Alley
Online Program: Offering over 15 live workshops, personalized 1:1 mentoring sessions, exclusive 'Meet the Investors' sessions, and insightful 'Ask Me Anything' meetings with accomplished founders.
Immersion Week in the USA: An opportunity to venture into the heart of the US startup tech world with immersive weeks in Silicon Valley and Austin, Texas, culminating in March 2024, and two Demo Days in San Francisco and Austin, where startups pitch in front of potential investors.
"WIT Angels Club is delighted to partner with the Rubik Garage Accelerator – Scale to the USA Edition. From our first chats with the Rubik Hub team, it was clear they were building a program that is highly focused, pragmatic, and aimed at priming startups for success in the U.S. market. The structure of the accelerator, including the intense kickoff bootcamp, ongoing mentorship, and Demo Days in both San Francisco and Austin, offers the kind of comprehensive support that startups need to scale effectively. It's a hands-on approach that blends technical, operational, and strategic elements, which we like a lot. Given that WIT Angels Club also has a footprint in the U.S., we see tremendous value in facilitating connections between European startups and U.S. stakeholders", says Ruxandra Muys-Stoian, co-founder of WIT Angels Club.
The program was developed in collaboration with US-based investors, experts, and founders who have successfully built, scaled, and exited startups in the US market. This is the chance to supercharge your startup's growth and enter the US market with confidence.
For more information and to apply, please visit rubikhub.ro/rubik-garage-scale-to-usa.