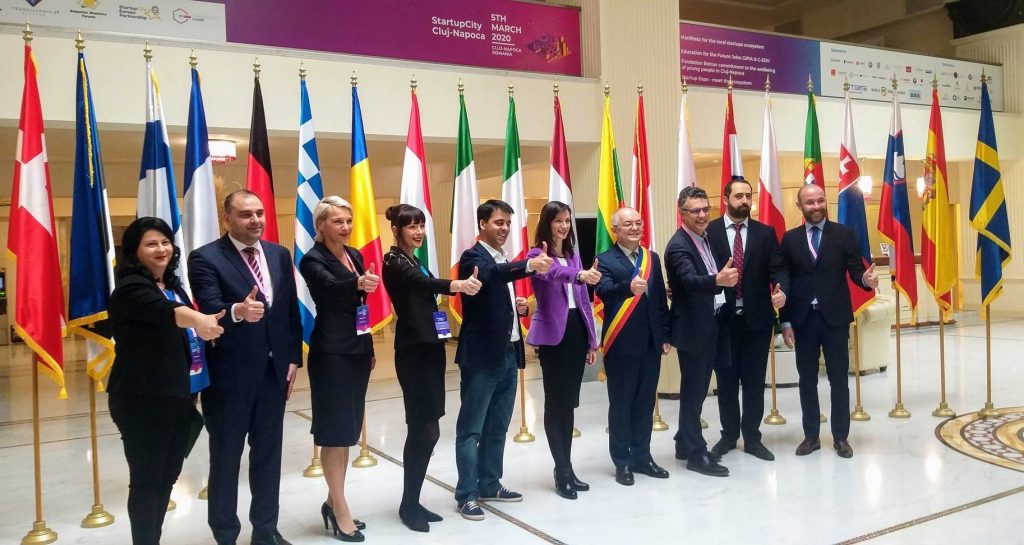 Cluj-Napoca, Romania, decided to be one of the first cities to apply for the European Capital of Innovation award, as Mariya Gabriel, EU Commissioner for Innovation, Research, Culture, Education and Youth, launched the 2020 edition of the contest during the StartupCity conference held in Cluj-Napoca on the 5th of March. Shortly after the contest launch, the mayor of Cluj-Napoca, Emil Boc, announced that the city will apply for the title.
"I would like to inform you that after the announcement of the commissioner concerning the European Capital of Innovation, we took the decision to apply this year for the title. We have transformed our city from an industrial city to a city based on knowledge economy, a city having a lot of innovative policies in the field of public transport, of green policies, and also in public governance, like public participation and participatory budgeting process. I think we have some good practices to show that we can move the map, in terms of the European Capital of Innovation, from Western Europe to the Eastern Europe.", said mayor of Cluj-Napoca, Emil Boc during the press conference following the StartupCity event in Cluj.
Also known as iCapital, this annual prize is funded by Horizon 2020, the EU research and innovation programme. It recognizes European cities that develop vibrant innovation ecosystems in order to address current public challenges and improve the lives of their citizens.
"Cluj is an inspiration for us, an example. My presence here is a support for more innovation ecosystems at local level, a support to show that cities are key players in this knowledge economy. Europe and all European cities are facing the same challenges. We have to tackle climate change, we have now to give answers to the digitalization, we have to give answers to our demographic challenges, and that's why when we have for a first time this knowledge triangle – Education, Research and Innovation united, when we have good examples like this one in Cluj, we are encouraged.", said commissioner Mariya Gabriel.
The prize awards six European cities in total. The first prize winner will join the community of previous European Capitals of Innovation – Barcelona, Amsterdam, Paris, Athens and Nantes. It will receive €1 million to ensure that its best innovative practices are shared and multiplied. To scale up innovation ecosystems across Europe, the contest will also reward the first five runners-up with €100,000 each to support their innovation activities and to enhance their capacity to connect citizens, public sector, academia, and businesses in order to deliver societal benefits for their communities.
The competition is open to cities with a minimum of 100,000 inhabitants from EU Member States and countries associated to Horizon 2020. A high-level jury of independent experts will evaluate how the applicant cities are pushing the boundaries of innovation by looking at the following criteria:
Experimenting by testing and promoting innovative solutions to their societal challenges;
Engaging citizens to participate to innovation, including designing policy and participate to its day-to-day implementation and use;
Expanding its innovation capacity by becoming a desired destination for prospective entrepreneurs and a role model for other cities;
Empowering citizens with tangible and measurable results of innovation.
The contest is open for applications until 23 June 2020 (17:00 CET). The first winner and the five runners-up will be announced during the European Research and Innovation Days on 22-24 September 2020 in Brussels.