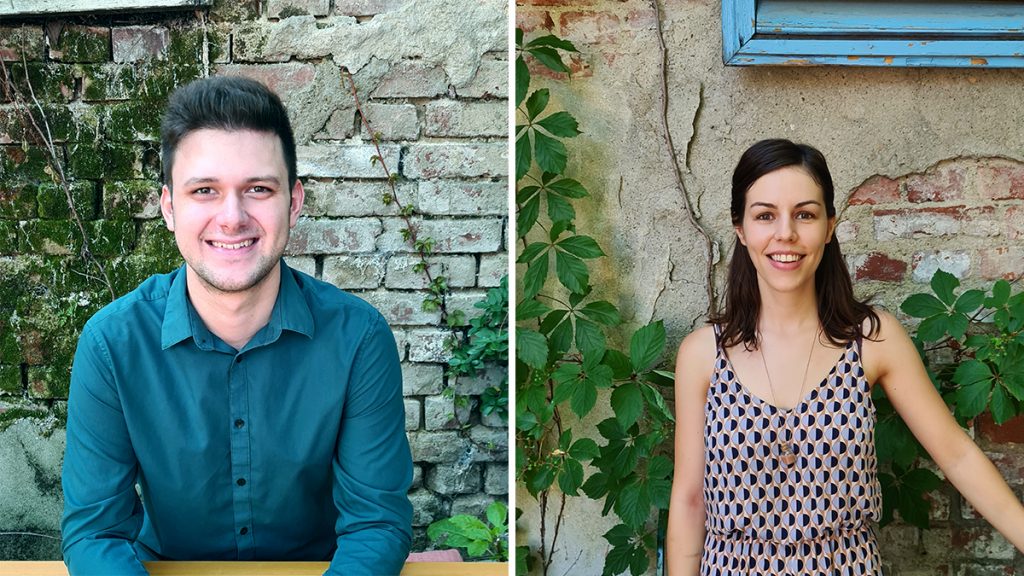 Bucharest-based Mingle is a friendly online platform designed to make recruiting easier for companies. It provides HR teams with simple ways to collaborate, organize and automate their work so they can hire the best people. Mingle is currently focusing on the Romanian market, an emerging economy with relatively low digitalization that is ripe for disruption. The founders of Mingle shared with us the story of their startup and some key insights into the challenges they faced and how they've managed to overcome them.
The story
During the final months of 2019, most of our afternoons were spent searching for the idea. We knew it was a matter of time before we would fall out of love with our jobs, so we wanted to build a business that could make us happier. Eventually, we found the niche market we were looking for: small enough to be able to dominate it one day, but big enough to be profitable. It also matched our expertise and skills, so we went further: we pitched the idea to possible customers, then adjusted. We built a prototype, collected feedback, then adjusted it some more. Talks were going well, so we quit our jobs in March 2020, two weeks before a nationwide lockdown due to COVID-19. Oops.
All panic aside, we spent the first days paying a lot of attention to the market, trying to determine if our poorly-timed venture was worth pursuing. And we did see an interesting shift. Our target market – usually not very enthusiastic about tech – was now adopting technology at an unbelievable pace. Betting that this change would be here to stay, our business model was still looking solid in the long run, despite the pandemic. So we decided to give it a shot.
Why is it hot? Because we do this at a time when recruiting in our market is being redefined. Companies are starting to reform the way they hire people, and this is only accelerated by the health crisis. The days of paper CVs, complicated spreadsheets or candidate databases that resemble Black Holes are coming to an end. Companies need better software that is suited for remote hiring teams and recruitment. Software that is easy to use and can help recruiters make smarter decisions, faster.
Why do we matter? Instead of adapting old software to modern times like most alternatives, we design a fresh experience from scratch, suitable for tomorrow's users. With Mingle you get started fast, you find everything in the right place and you get things done. It has all you need and nothing you don't. We use advanced technology to build a platform that is modular, light and fast. And most importantly, we use real customer data and feedback to grow our product.
Who's behind this? Into building this, passionate people had to put in real work. Our team scores well across a spectrum from creative to technical. Catalina is the creative doer – she rocks marketing and design. Alexandru is the genius architect – he makes amazing software. All while Bogdan makes sure everything fits into the masterplan – he does product strategy and sales.
Key insights from launching a startup in COVID times
Even with a great team, opening our doors as a business when everybody was shutting theirs down was uncomfortable. Such an unprecedented situation brought us new challenges we didn't study about in business school, but also a few unexpected advantages as well. Now that you have the big picture, we'll share 3 stories about the impact of the COVID crisis on our early stage startup.
1. Getting your product validated when people have much bigger problems
When social distancing became the norm, HR teams rushed to migrate their workforce remote, restructure their organization and freeze recruitment budgets. To our newly launched hiring software, this seemed like a nightmare. How do you convince people to try your product when they first have to worry about job loss and depression and disease?
The original plan would have us validate the product via direct sales – a typical B2B practice which we were familiar with – but at that moment it just didn't feel right. So instead we switched focus towards building a content marketing strategy, something none of us had done before. This turned out to be good for 2 reasons:
Better insights about our market. Before anyone knew anything about us, we created a blog and started pushing daily relevant articles, free resources and updates about the changing HR trends. By measuring audience response (reading time, resource downloads, reactions, shares etc.) we got to know more about our target market: what subjects spark their interest, what areas they want to improve or what challenges they want to overcome.
Better awareness. We thought this could help us increase the chance of people replying to our sales emails later on. And it did! 20% of HR professionals we get to demo say they read our blog.
Finding early adopters who pay money for your product is hard. It's perhaps the hardest thing we had to do. But being empathetic with the customers in those early days helped us turn a bad situation into a chance to know them better.
2. Failing faster
Being in a startup environment, failure is mostly inevitable. We had our share of poor decisions that lost us time or money. And since our time and money are limited, it's usually better we fail faster, so we can learn faster, so we can move on faster. From this point of view, we believe the pandemic actually helped us.
Initially, Mingle was supposed to be a tool for boosting employee referrals. The concept seemed very interesting for many HR professionals to whom we have talked, so we built an MVP (Minimum Viable Product).
Fast forward 2 months into the crisis, the MVP was ready to be validated in the real world. We started reaching out to companies, trying to sell them our software.
Such a process usually looks like this: you find suitable clients, you convince them to meet you, then there's the meeting, after which they talk to their bosses about you, get approvals etc. It's a lengthy cycle that may take months until you collect enough feedback to validate or invalidate your product.
But there's one different thing about collecting feedback in the COVID era. Meeting clients online opens up the possibility to be much more efficient.
We saved tons of time of preparation and travelling between meetings, allowing us to have up to 5 client demos per day without even leaving the house. We were able to talk to as many clients as possible right when we needed them the most.
Eventually, when final decisions started coming in, they were mostly bad news. We learned that helping companies get more employee referrals was just a part of a bigger problem they had – and solving referrals wouldn't make that main problem go away.
Unfortunately, we had to pivot the business and change the whole strategy. But on the bright side, it only took us 3 weeks to reach that conclusion. Failing faster saved us months of development and resources spent in the wrong direction.
3. Bootstrapping through uncertain times
Mingle started out with 3 people and €30.000 initial investment from personal funds. Bootstrapping during a pandemic can be quite scary – it comes with lots of challenges we can't control, like the market reaction to another lockdown or wide scale job cuts. Nevertheless, it can be fun if you are comfortable with some compromises.
For example, you may need to change your way of life as a human to improve the likelihood of success for your company. And with many activities restricted due to COVID, minimizing living expenses has never been more convenient.
The past few months have also been amazing for focus. Working from home gave us better control, allowing us to remove unnecessary distractions and work on the things that mattered the most. And this was crucial in a stage where everyone's contribution to the grand total is so significant.
It's certainly not easy to bootstrap, but for us it felt like a suitable choice for those early times.
Future plans
Going through a rollercoaster of validation, failure and compromises while everyone was running away from a deadly virus was both an exciting and challenging journey when looking in retrospective. But what's more exciting to us is the future.
At this point, Mingle has reached some important milestones. We now have a validated product, with real clients and ambitious plans for the future. We will continue to pour all our passion and talent into developing a service that will become the absolutely obvious solution for all HR needs in a company by 2025.
In order to get there, we are considering working with partners and investors who could help us take this to the next level and deliver on our promise.
Learn more about Mingle and get in touch with its founders, here.