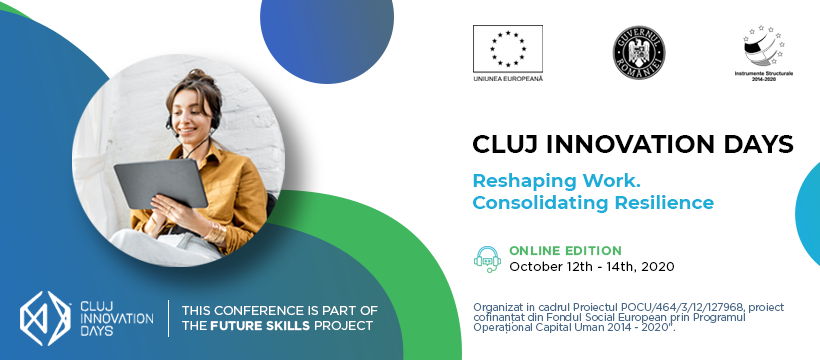 This year's online edition of Cluj Innovation Days (12th-14th of October, 2020) will address the issue of digitalization and the impact of the crisis on the regional business environment, with a focus on the future of work, adaptability & resilience. The conference will take place on the HopIn platform during the three days, where participants will have the opportunity to watch live sessions, will be given the necessary space to network and the opportunity to visit the virtual stands of the companies. Cluj-Napoca, Romania, was the first East European city shortlisted for European Capital of Innovation title, within the 2020 edition.
The 8th edition of the Cluj Innovation Days, organized by Cluj IT Cluster and Babeș-Bolyai University, two of the key players of the innovation ecosystem of Cluj-Napoca, together with Activize, aims to analyze new business innovation models by bringing together specialists from various industries to discuss and explore the options we have, both as individuals or organizations, how to stay relevant, how to become more productive while also enjoying a better life.
Technology is improving our professional work and helps us stay connected with our colleagues and the work we do, but can anyone of us manage to adapt to the fast pace that the world is moving with? That is one of the questions Cluj Innovation Days is trying to tackle between 12th-14th of October by bringing together experts to explore in lively debates the options we have both as individuals and as organizations.
This edition of Cluj Innovation Days will be looking into matters that are close to each and one of us:
adjusting our professional lives and organizations through new ways of learning and training;
innovation-driven partnerships;
building resilience to challenging business conditions;
understanding the future workplace.
The Cluj Innovation Days 2020 conference is organized within the Future Skills program, implemented by Cluj IT Cluster in partnership with the Cluj Employers and Craftsmen Association and the Informal IT School. The project brings a number of benefits and support actions designed to facilitate a smooth transition through the processes of digitization and organizational transformation. The project's approach involves a skills-focused model, in which both the employee and the company can access knowledge, expertise and specialized support for personalized lifelong learning programs and on demand learning programs.
Hop in Cluj Innovation Days 2020: hopin.to/events/cluj-innovation-days