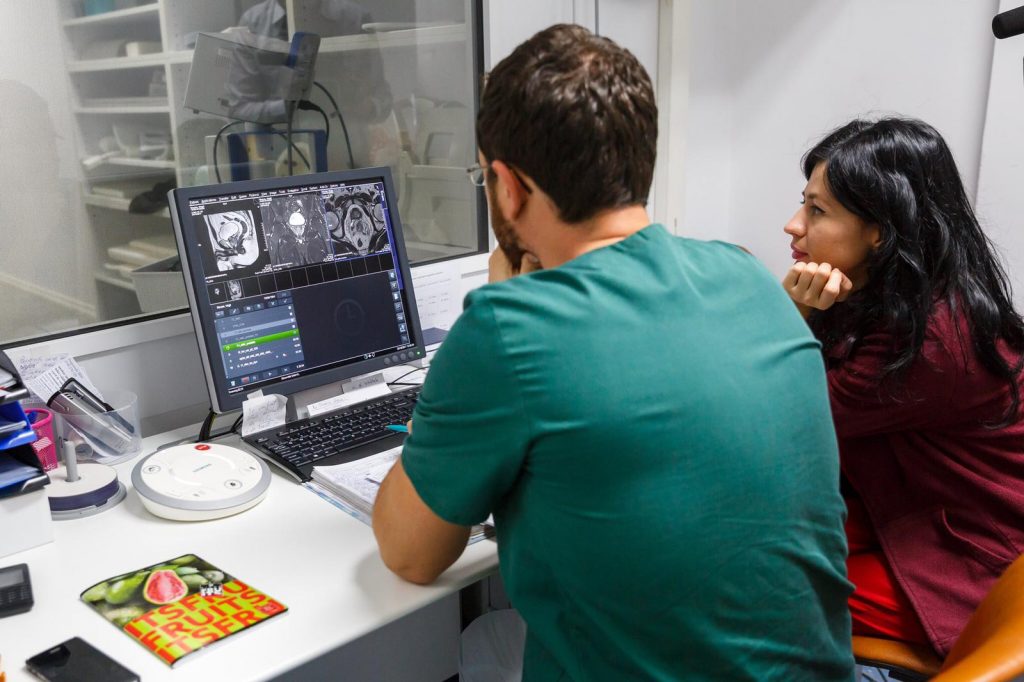 On November 25th, during the Global StartUp Summit European conference, Cluj-Napoca, Romania, was appointed as a project leader in healthcare innovation and artificial intelligence within the European Innovation Area (#EiA), a new European project created to encourage innovation, whose ambassador is the European Commissioner for Innovation, Mariya Gabriel. Cluj will act within the #EiA together with Valencia, Cologne, Leuven and other European cities recognized for their initiatives in the fields of innovation and sustainable development.
Under the tagline "MedTech StartupCity Cluj-Napoca", Cluj-Napoca City Hall will manage within the European Innovation Area a pioneering action at European and global level, called "Health iArea", aiming to create an attraction point for new economic opportunities for the city related to startups and SMEs, with healthcare products and services for hospitals and citizens.
"Cluj-Napoca now takes over the management of the Health iArea, in order to create new economic opportunities for Romania and Europe. Our goal is to accelerate innovative solutions for one of the most important components of our lives: our health.", said the mayor of Cluj-Napoca, Emil Boc, following the appointment.
Innovation fund and coworking space dedicated to startups in healthcare and artificial intelligence, financed by the City Hall of Cluj-Napoca
As a first concrete step to support innovation in healthcare and artificial intelligence, the Municipality of Cluj-Napoca will create an innovation fund dedicated to startups, with funding from the local government, alongside private and European funding, as well as a coworking space. The amount announced by Mayor Emil Boc as an investment by the City Hall in the innovation fund amounts to over 500,000 RON, to which private contributions from local businesses, contributions from international foundations (€350,000) and European funding will be added.
"Investing in healthcare innovation is very profitable, but in the longer term. If you invest in innovation, education, startups, that investment goes back into the ecosystem and can generate exponential growth. I am pleased with the initiative of Cluj-Napoca City Hall to create this innovation fund, because investment in innovation has the chance to be multiplied several times. There is a dose of risk, but it is offset by the benefits of the mindset and the benefits of developing and accessing the resources that the ecosystem gains.", said Dr. Ion-Gheorghe Petrovai, co-founder of FreshBlood HealthTech community in Cluj, endorsing the decision of the Cluj-Napoca City Hall.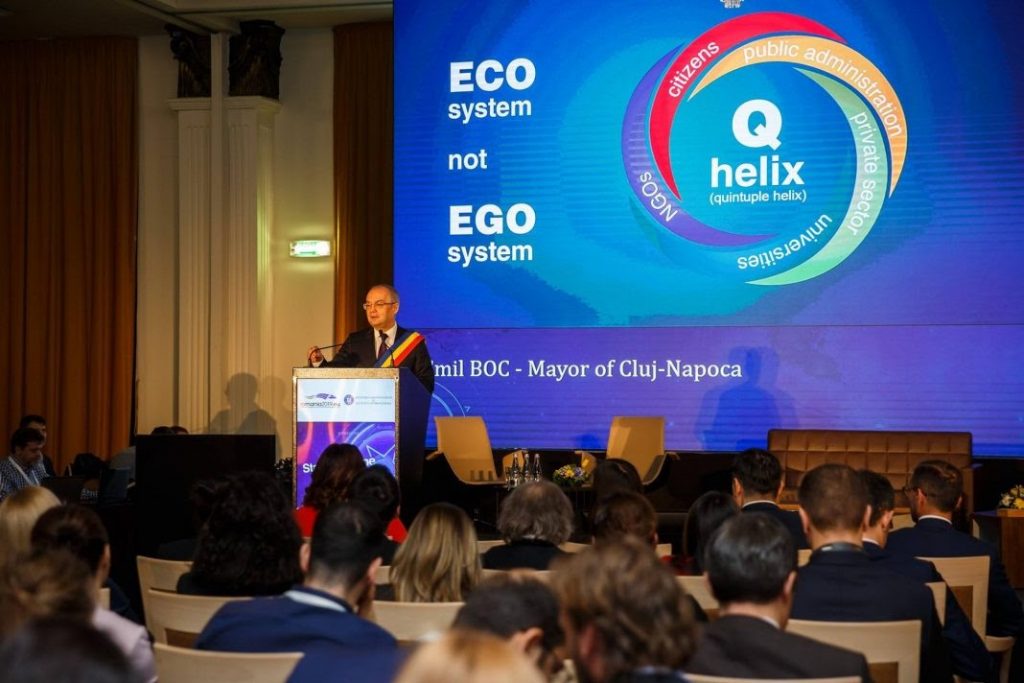 According to the statements of Mayor Emil Boc, Cluj-Napoca City Hall wants to offer collaboration opportunities to startups to develop the city's capabilities in terms of business competitiveness and more. The European Union has specified that the three components that will be emphasized in the next period will be the "green", "resilience" and "digital", and within the digital component, the field of healthcare will have an extremely accelerated growth in the next period, being the area most likely to innovate the most. The healthcare field is where it is also expected that most European funds will be concentrated, but also the largest local and national resources.
Cluj ecosystem of healthcare innovation
The pandemic has already proven that only if we work together we can succeed, and the spirit of collaboration is the one which the Cluj innovation ecosystem has embraced for several years, including both local government, local and national NGOs, universities, companies, startups and other institutions.
One of the main catalysts of healthcare innovation and an expression of the involvement of local civil society in Cluj-Napoca is FreshBlood HealthTech, an NGO that has been actively supporting healthcare startups for many years. FreshBlood has been the hub of EIT Health in Romania for several years, and since May 2019 it has become connected to the European Connected Health Alliance, a European ecosystem network, forming the regional network Transylvania Digital Health Ecosystem, in order to increase the quality of regional health services, through European collaboration and technology.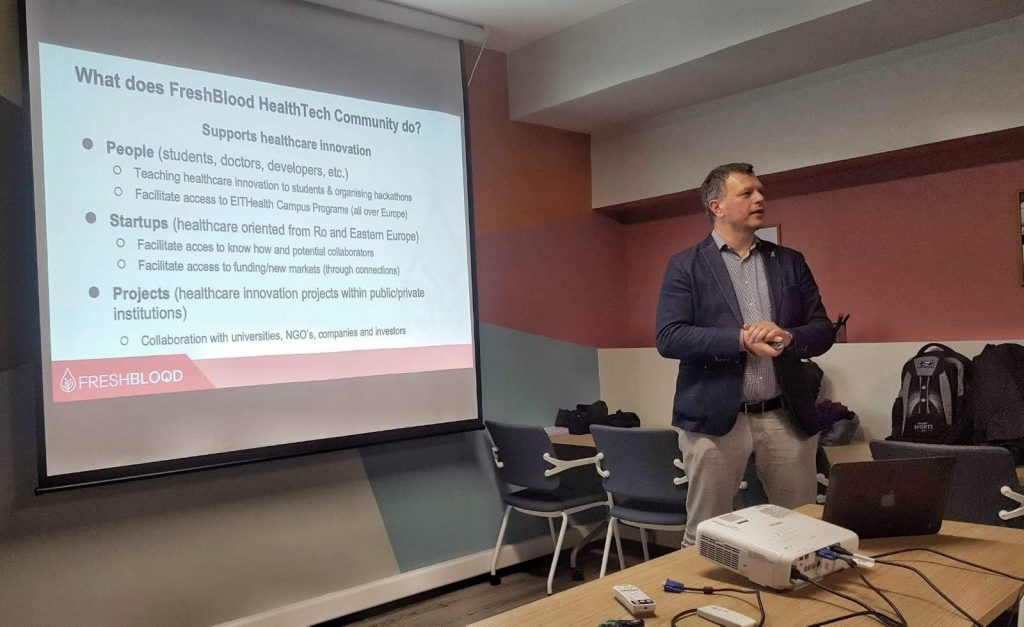 In 2020, FreshBlood carried out several major projects, including creating a map of Romanian health innovators (startups, innovative projects, etc.), collaborating with universities through GIPIA (Interuniversity Group for Innovation and Entrepreneurship), a group dedicated to interdisciplinary training and encouraging collaboration in research and business development of students, as well as funding innovative projects in healthcare.
"We at EIT Health and Fresh Blood place great value on encouraging discussions and collaborations. We encourage projects in which not only an entity or a person comes up with a solution that they find interesting, but especially projects which are a result of collaboration between several entrepreneurs and which obviously meets all their needs", says Dr. Ion-Gheorghe Petrovai, Project Director of EIT Health Hub Romania and co-founder of FreshBlood HealthTech.
Other key players in the local healthcare innovation ecosystem include the Transilvania IT Cluster, School of Public Health of Babeș-Bolyai University, and other universities in Cluj, including the Technical University of Cluj-Napoca and the University of Medicine and Pharmacy of Cluj-Napoca.
They are joined by the business environment and a growing number of successful local startups. Recently, .lumen, a startup from Cluj-Napoca, launched glasses for the blind with a system of assistive technology, which addresses the mobility of the blind. .lumen was founded by Cornel Amariei, inventor, together with Dr. Gabriel Chindriş, university researcher in the field of electronic engineering at the Technical University of Cluj-Napoca and Mihai Ivașcu, CEO and founder of M3 Holdings. In the last year, .lumen has attracted investments of over €1 million, the organization has tripled its team size compared to May and estimates an increase of over 100 employees by the end of 2021.
Cluj universities, the place where the innovators of tomorrow grow
In addition to local government, NGOs and startups, Cluj universities are one of the key factors in the development of Cluj's innovation ecosystem. In a webinar organized on November 23rd, 2020 by Forbes Romania and EIT Health, with the theme "How did Romanian healthcare innovators become competitive at European level?", the representatives of the universities of Cluj-Napoca presented the vision of the university environment on the role it has in the local innovation ecosystem.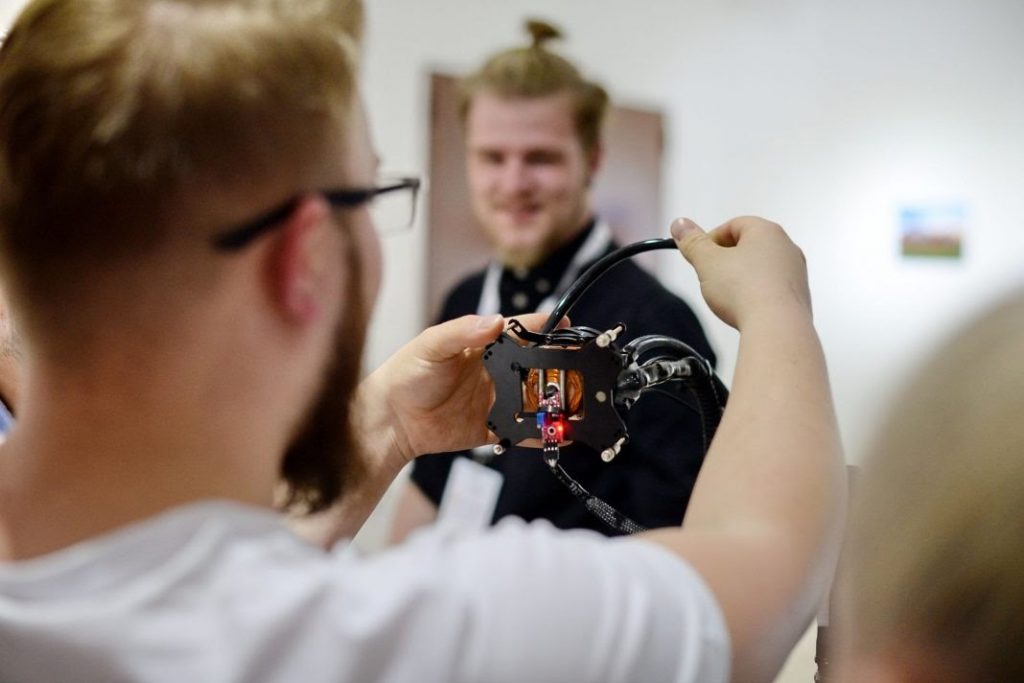 Thus, Prof. Christian Săcărea, Vice-Rector of Babeș-Bolyai University (UBB) argued that the university must create an environment conducive to innovation and identification of those who have potential, the role of the university being to open doors, provide opportunities, provide guidance, find those projects applied research to whet the appetite for innovation.
"The innovation component is essential in a university that respects itself and goes beyond its role as a standard trainer. What the university should do, first of all, is to provide an environment conducive to innovation and to identify those who really have potential. We live on a mountain of creativity that students, researchers and teachers have, but it must be valued. In order to value it, you have to find those who really have potential. On a theoretical level, everyone wants to innovate and give their opinion as the best, but to innovate really you have to have the right mindset and you have to be serious in your approach.", said Prof. Christian Săcărea.
Also, says Christian Săcărea, it is important to bring students in contact with those who know how to do entrepreneurship, in order to have a human-to-human interaction. UBB plans to introduce next year a cross-curricular entrepreneurship course, to which all students will have access and which will be supported by personalities with extensive experience in entrepreneurship.
In his turn, Prof. Răzvan Cherecheș, Director of the Public Health Department / Center for Healthcare Innovation within UBB mentioned that only by financing innovation can we have quick answers. Universities provide a context for innovators and train their teams. Innovation is created by overcoming obstacles, and Romania, considers Prof. Răzvan Cherecheș, is an extremely good place for innovation because there are many obstacles and unmet needs, thus offering phenomenal opportunities.
"With this pandemic, I discovered how unprepared the public health field in Romania was. It caught us completely unprepared. Innovation was not fast enough and well enough funded. We are still in a period of transition. It turned out that only by financing innovation can we have quick answers. We need to see the opportunities. An extremely simple example would be to identify the opportunities that are generated by the deficit. Research in Romania has not been funded for many years. It's with the wheels up. This means that we have researchers and, implicitly, students who would like to be involved in research, but do not have a context. So, innovation appears as an alternative for them. Therefore, we have a greater involvement of young people in innovation, because the research part is no longer a potential career, due to the lack of funding policies.", said Prof. Răzvan Cherecheș.
Răzvan Cherecheș considers that we need a reform of the education model, its transformation into a model "problem based education", in which the teacher transforms into a moderator, facilitator.
Doina Pîslă, Director of the Council for University Doctoral Studies of Technical University of Cluj-Napoca mentioned in her turn, the need for cooperation between the university and companies, mentioning as an example the Technology Transfer Center within the Technical University of Cluj-Napoca.
"Our university also supports innovation and research excellence. What I find extremely challenging is the road from basic research to applied research, which can be done through cooperation between university entities and companies. We, the trainers, must be able to convey to our students and doctoral students how this is done. We support innovation through a Technology Transfer Center that we have at the level of the Technical University, a place where consulting for patents is offered, for example. All patents are analyzed. There are patents even in the field of health, with promising results. Of course, the road is long from idea to implementation in the medical environment, it also depends on the type of application that has been addressed.", says Doina Pîslă.
Doina Pîslă considers very important the way in which entrepreneurship projects are approached: "We have a project that has been running for almost a year for our PhD students with the acquisition of transversal entrepreneurial skills extremely important for launching a company. When it comes to innovation, I believe that there must always be an interdisciplinary team of engineers, computer scientists and doctors. We have an extremely good collaboration with the University of Medicine and Pharmacy of Cluj-Napoca. "
As explained by Dr. Ion-Gheorghe Petrovai, Project Director of EIT Health Hub Romania and co-founder of FreshBlood HealthTech, the Cluj innovation ecosystem is currently on the right collaboration mindset, in which discussions and cooperation between several stakeholders are encouraged: "I always insist on the mindset side. It's what we all need. Before we set out, we must believe that we will succeed and that we will progress – this is somehow contagious. Just as fear is transmitted among people, the winning attitude is transmitted just as quickly. It is important to see it as a development priority. Because the ecosystem is the sum of us all and when someone rises, the others grow too, and thus we all evolve."