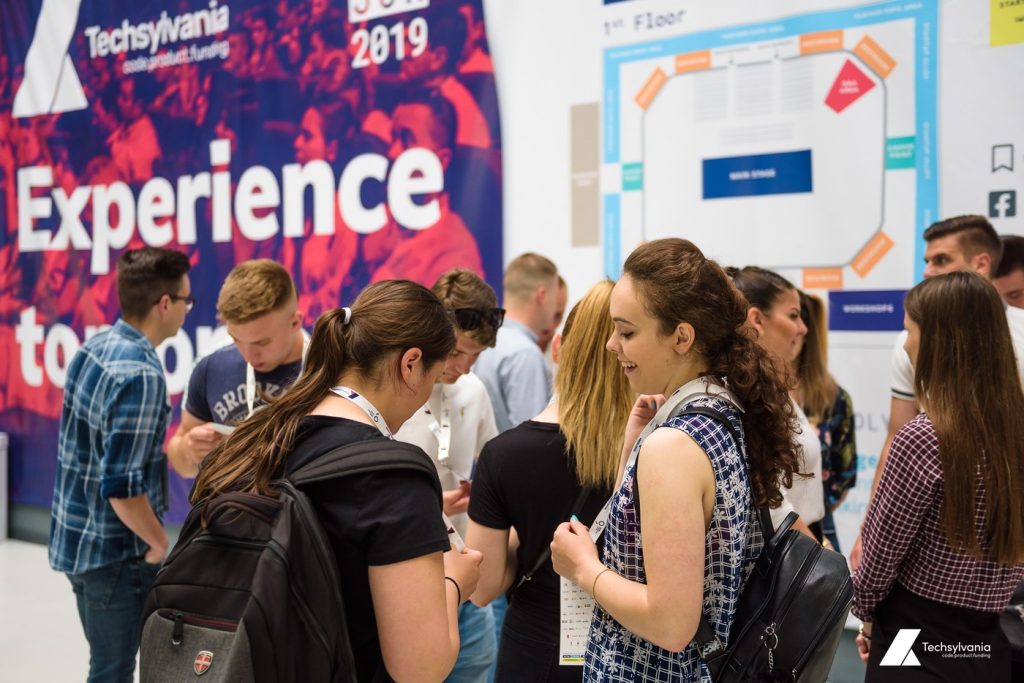 Between June 28-29, 2022, a new edition of Techsylvania, one of the most important technology events in Eastern Europe, will take place in Cluj-Napoca, Romania, a meeting place of technology enthusiasts and the most important tech companies in the world.
In 2022 the organizers propose a hybrid format of the event so that participants can choose whether they want to watch online from the comfort of their home or whether they want to physically participate in the activities and discussions on the spot. Global technology companies such as Grab, Chili Piper, Superbet, MongoDB or OLX Group will have important representatives present as speakers on the two stages on June 28th and 29th, 2022.
Techsylvania is one of the most important technology events in Eastern Europe, always on the agenda of those who want to be one step ahead of the trends and enrich their product, technology or business knowledge from industry leaders.
CEOs, founders and technical experts of the most successful technology companies in the world will be present at the 9th edition
Alina Vandenberghe is the co-founder of Chili Piper, the newest unicorn in the United States founded by a Romanian.
Sacha Dragic is the founder and executive chairman of Superbet Group, which has been active in the sports betting and gaming market for more than a decade. Although the business was originally founded and developed locally, 4-5 years ago international expansion began.
Other important names to be present on stage are: Mark Porter, CTO at MongoDB, Suthen Thomas, CTO at Grab, Lloyed Lobo, co-founder at Boast.AI, Trang Nguyen, co-founder at Transpose Platform, Zach Coelius, partner at Coelius Capital – they are just some of the professionals who will reveal their career's secrets at Techsylvania 2022.
Business connections, workshops or startup awards complete the Techsylvania experience
The Techsylvania core is represented by the conference, which brings over 60 inspirational representatives from all over the world, but the event experience is complemented by many other components.
Over the years, Techsylvania technical workshops have covered various areas of interest for this industry and will continue to do so in 2022. Technology is evolving faster and faster and is segmented into complex areas that need to be studied individually.
Another focus is the opportunities to connect with business partners, facilitated within the Networking Area or Executive Roundtables. Participants who opt for these sections have the opportunity to discuss with founders, investors or members of top companies, the latest trends in the industry or the opportunity to collaborate. Techsylvania is also a space dedicated to the latest technologies and innovations, which will be present this year in the Startup Alley, a program hosted by Google for Startups.
Satellite events continue in the 2022 edition
This component has been a success in past editions, where participants had the chance to connect with other professionals, relax or deepen their knowledge also through satellite events, held near Techsylvania, by partners.
"Techsylvania is now at its ninth edition and has become more than just an event. It is a meeting place for the most passionate people in the field, but also for the most powerful companies on the market. Our mission is to build a bridge between Eastern Europe and the rest of the world through events, knowledge, networking and business and investment connections. Whether it's people looking for inspiration or people who want to share valuable information or discuss ideas, this is the best place to be. Last year we had to organize this meeting in a virtual format and we lacked the physical interaction on the spot, but we also discovered a good part: overcoming geographical boundaries. For this reason, we decided to meet this year physically, but also online, so that those who can not attend the event can take part in these important discussions.", said Vlad Ciurcă, Co-Founder of Techsylvania.
Tickets can be purchased at techsylvania.com/tickets.