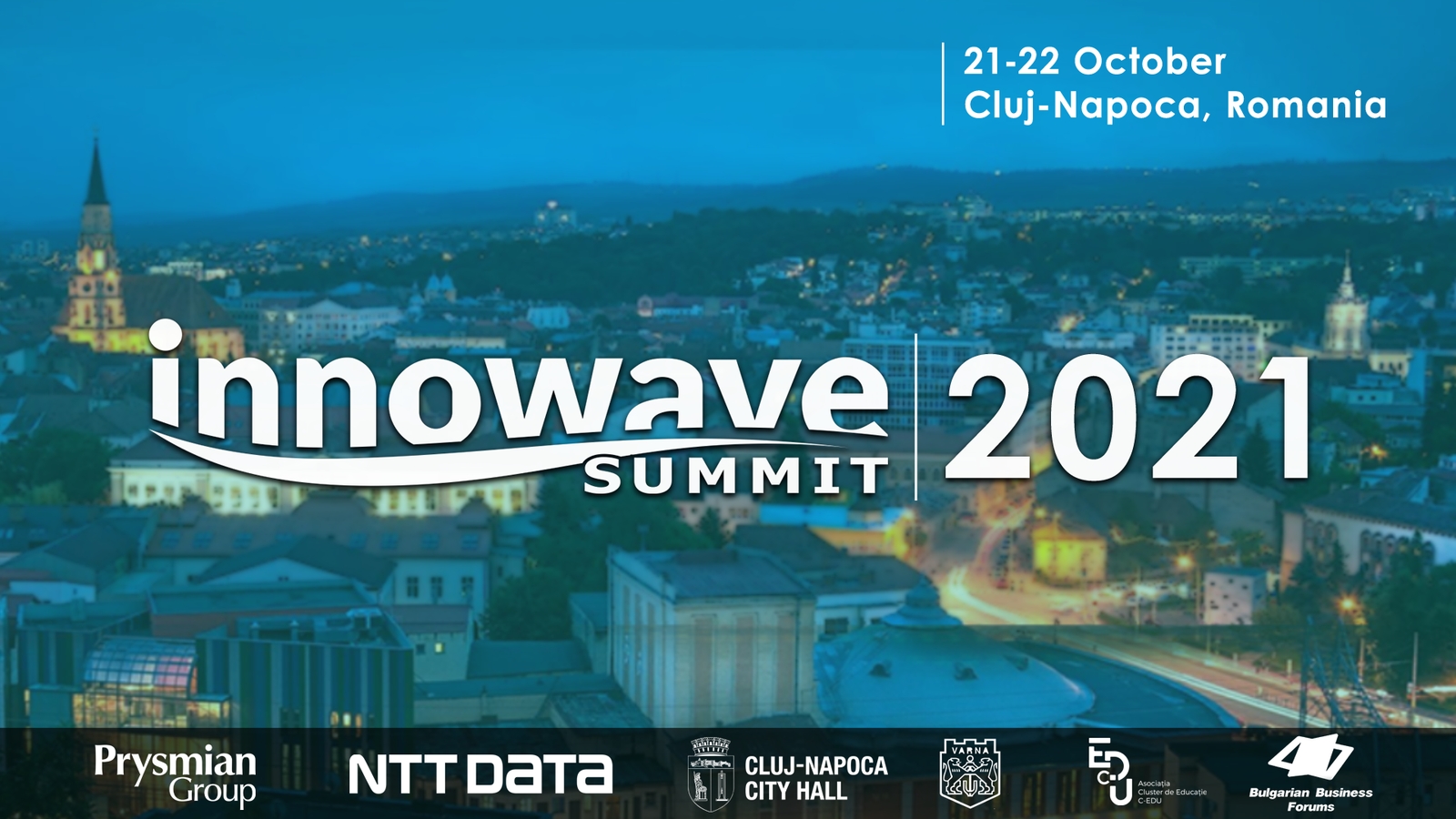 UPDATE: Due to the Covid pandemic situation in Cluj-Napoca, Innowave Summit 2021 is postponed.
On October 21st and 22nd 2021, Innowave Summit Cluj-Napoca, Romania, will bring together global brands and venture capital funds from three continents, with a vision to unite the digital leaders of Europe and boost the innovation ecosystems. The event will provide an opportunity for domestic businesses to scale-up on a European and global level.
Innowave Summit 2021 Cluj-Napoca is the sixth consecutive edition of the event which took place till this edition in Varna, Bulgaria. With its sixth edition, Innowave Summit acquires a new European dimension by transferring successful models and good practices from the city where it started – Varna, to one of the most innovative European cities – Cluj-Napoca – finalist for the European Capital of Innovation 2020 title.
The event is organized by the Bulgarian Business Forums, a nonprofit organization that encourages an innovative and creative business thinking and entrepreneurship, in partnership with the city halls of Cluj-Napoca, Romania and Varna, Bulgaria and the Cluster of Education – C-Edu.
Innowave Summit 2021 is a top event in the pan-European innovation programme of the European Innovation Area. It will take place during the National Month of Education in Romania and will be the most important event in the framework of the StartupCity Cluj-Napoca Days.
The institutional support that this edition of the conference will receive is important. Part of the event will be Dubravka Šuica – Vice President of the European Commission, European Commissioner for Democracy and Demography, Mariya Gabriel – European Commissioner for Innovation, Science, Culture, Education and Youth, Apostolos Tzitzikostas – President of the European Committee of the Regions, Florin Vasile Cîțu – Prime Minister of Romania, Emil Boc – Mayor of Cluj-Napoca, Harold Gruber – Head of Digital Infrastructure in the Projects Directorate of the European Investment Bank and many others.
"Innowave Summit brings together entrepreneurs, top experts, startups and C-level managers from 28 countries who exchange ideas and good practices and look for ways to elevate their business to global markets. The conference is much more than just a business event. This is the place where businesses can reach the next level in their development, where entrepreneurs can find new partners and customers, where startups can scale-up their ideas.", said Dimitar Vassilev, Chairman of the Bulgarian Business Forums and organizer of Innowave Summit.
Details about the conference and the opportunity to join you can find here.